The Froggatt Family of Brewhouse Yard, Nottingham
MARY FROGGATT 1833-1868
Mary Froggatt was born in 1833, the oldest child of William Froggatt and Elizabeth Bowler:
                       Joseph     Rebecca

                       BOWLER==v==MILWARD

                            1795

                               |

 1807-1866               1802-1883

   William======v==========Elizabeth    John==========v==========Mary

  FROGGATT     1832         BOWLER     CLARK          ?           ?
                |                                     |

              

1833-1868

                              1831-1899                      1831 

            

Mary FROGGATT

                           William CLARK               Charlotte VENN

                |                                      |                             |

                |==============v=======================|============v================|

                              1854                                 1874

                               |                                    |

                               |                                    |

    |--------------|-----------|-----------|--------|               |-----------|-----------|

    |              |           |           |        |               |           |           |

   1855           1857        1859        1860     1863            1874    1876-1945   1878-1966
 Catherine      William       Mary      Francis J  Albert          Margaret  Lottie       Helen

    |              |            

|

          |        |              |          

|

           |
 
m:1894         m:1880                  m:1899     ?            m:1906                m:1920 
 
George         Elisa                   Edith                    Henry                 Joseph
 ARMSTRONG       HAMEL                  McKINNON                PROUDLOCK                BIRD

    |              |              |--------|                        |-----------|          

|



   1897        6 children        1903     1909                     1910        1916

Richard Acland                   Mary   William                   Margaret      John

     |
  
m:1927

Lucille M HARDY

     |

    1936

 George A


Mary was baptised at Nottingham St Nicholas on 11 August 1833. The 1851 census records her place of birth as Fenny Bentley, Derbyshire (see notes from our 2007 visit to Fenny Bentley.). The connection to Fenny Bentley is not obvious, but Mary's maternal grandmother (Rebecca MILWARD) was married there to Joseph BOWLER on 27 October 1795. In the 1841 census Rebecca Bowler was residing at Fenny Bentley, aged 75 Shopkeeper. This suggests that Elizabeth Froggatt returned to her mother for the birth of her first child. The distance between Nottingham and Fenny Bentley is 31 miles by road, passing through Stapleford, Derby and Ashbourne.

Record of the reading of Banns for Joseph and Rebecca at Fenny Bentley


Marriage of Joseph and Rebecca in 1795


1841 census for Rebecca at Fenny Bentley
In 1841 the family had left Brewhouse Yard and were living close by in Edward St. By 1851 the family had moved to Castle Wharf and Mary was a Dressmaker, aged 17.

Mary in the 1841 census at Edward St, Nottingham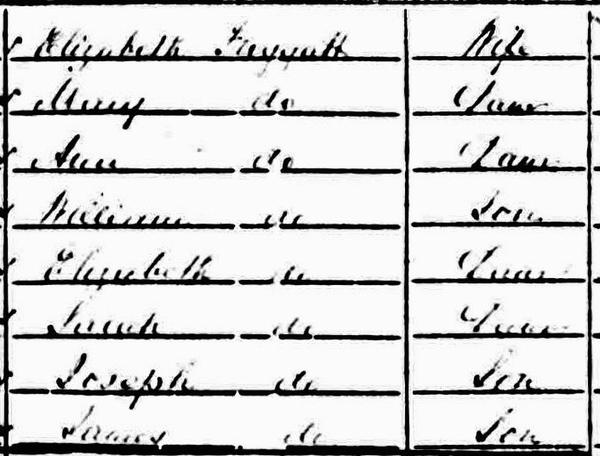 Mary in the 1851 census at Castle Wharf, Nottingham
Mary was an accomplished dressmaker. Her descendants have a sampler that she sewed. It is dated April 5th 1842 and states Mary was 8 years old, but her birthday was sometime before August in 1833 so she was nearer 9. The sampler has faded with time but the detail and neat stitching is clear.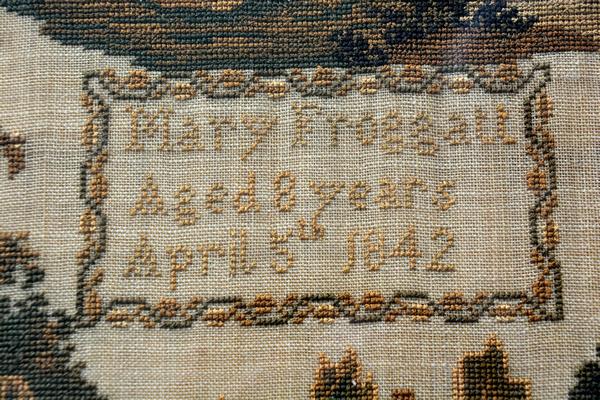 Mary's sampler dated 5th April 1842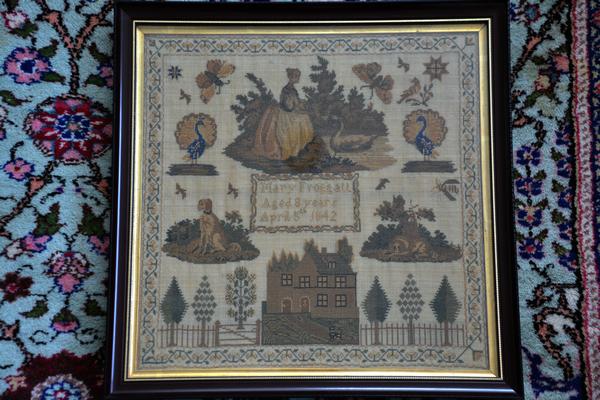 Marriage of Mary Froggatt and William Clark
In the 1851 census Mary's father was a commercial traveller. In the 1854 Wright's Directory he is listed as a traveller for J&H Youle's Timber Merchants, Castle Wharf. In the same directory a William Clark is listed as a clerk for Youle's at Castle Wharf. William Clark would have been 24. It is not surprising perhaps that Mary married William Clark in Nottingham in 1854 (Jun quarter, 7b/369). William Clark was the son of John and Mary Clark. John was a gardener. The 1851 census records five CLARK children: Lucy 1823, William 1831, Ann 1834, Mary 1838 and Betsey 1849.
William and Mary FROGGATT had five children:
By 1861 the family had moved a few metres to Isabella St, which is adjacent to Brewhouse Yard:
In White's 1864 Directory, William Clark is a Slate Merchant, Isabella St., and William Froggatt is a timber merchant with the firm of Froggatt, Woodward and Marriott, Castle Road Wharf, having bought J&H Youles Timber business. William Froggatt died in 1866 (see below) and in 1869 William Clark is listed with the firm of Woodward, Clark & Co, timber merchants. It would appear that William Clark joined the firm with John George Woodward after his brother-in-law's death. Woodward Clark & Co are listed in directories for 1869, 1894, and 1900
Death of Mary
Mary died in 1868 in Nottingham, aged 35 (Dec qtr Basford 7b/89). In 1869 William Clark was listed as a Timber Merchant residing at Lenton Tce, The Park, so this may have been where Mary died.
In the 1871 census, William the widower is living at The Park with son William Froggatt Clark. Also at the address is William's sister Betsy Clark (aged 22) and teo servants. The other children are scattered. Sons Francis and Albert are at school in London (25 Brixton Place, Lambeth). Catherine and Mary are also at school in Brixton at a Ladies Boarding School (Upper Tulse Hill), the Principal being Elizabeth WOODWARD from Nottingham. The Froggatt, Clark and Woodward families were business partners in Nottingham, so this family connection may explain why the children were sent to London after their mother died.
Marriage of William to Charlotte VENN
William Clark married Hannah Charlotte VENN, in the March quarter 1872 (Nottingham 7b/363).
William and Charlotte had three children:
In 2008 a small silver mug was located, inscribed "Lottie Isabel Clark on her second birthday". The mug has the hallmarks for Exeter, 1877, so either it was bought there as a present, or was sent to a retailer in Nottingham. The mug is now in my possession.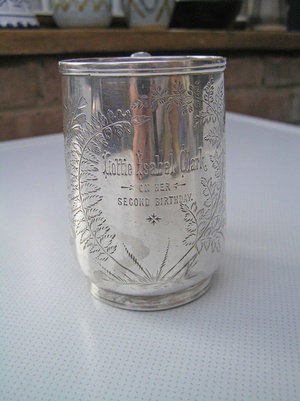 The silver mug inscribed for Lottie Isabel Clark on her second birthday
1881 Census
In 1881, William Clarke (the 'e' having now been added for some records) was living at "Fairlawn", Duke William Mount, the central road in The Park, Nottingham. His two older daughters are back living with him, together with 2 servants:
By 1891, William and family had left The Park, and were residing at "One Ash", next to the Manor House, Edwalton, south of Nottingham, near Ruddington.
Death of William
William Clark died on 11 November 1899 as 12 Bridgford Rd, Nottingham, just across the road from the Trent Bridge Cricket Ground. According to the probate entry, he left an estate of over £9,000 to be administered by his second wife Charlotte.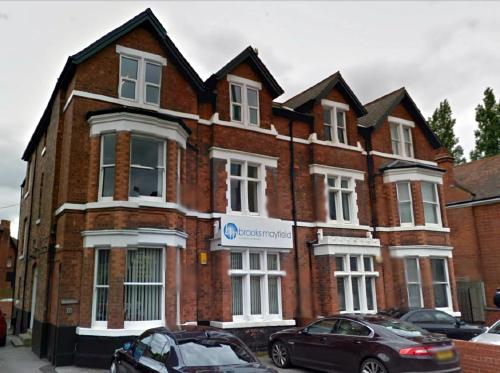 12 Bridgford Road, Nottingham (left half of building)

1901 and 1911 Census
In 1901 Charlotte Clark and her daughter Helen were living at 10 Balmoral Rd. Helen was a lady cook instructor school.
In 1911 Charlotte and Helen have moved to 8 Grosvenor Ave, Mapperley Park, Nottingham. Helen was now an Art and Cookery Teacher for the County Council.

Charlotte died on 8 February 1922 at the Coppice Hospital, Nottingham Probate was granted to her son William Froggatt Clark and the solicitor. The estate had dropped in value over the 23 years and was now worth only £2,200.
---
The Children of William Clark & Mary Froggatt
Catherine Elizabeth Clark
In the 1891 census Catherine was working as a housekeeper for the Armstrong family at Toxteth Park, Lancashire. Also at that address was a George Gilbert Armstrong, a journalist, son of Richard Acland Armstrong a "Protestant Dissenting Minister of Religion".
Catherine married George Gilbert ARMSTRONG in June quarter 1894 at Nottingham. George was 16 years her junior. They had a son, Richard Acland Armstrong, born in Bradford (North Bierley 9b/194) in 1st quarter 1897, when Catherine was 42 years old. In the 1901 census they were living at 3 Bertrand Place, Gilnow, Bolton, Lancashire. By 1911 they had moved to Denison Rd, Victoria Park, Manchester. In 1939 they were at 133 North End, Golders Green, London

1901 census
1911 census
1939 register
Catherine (also Katherine) Armstrong nee CLARK died 6 January 1941 at 133 North-End Rd Golders Green, London.

133 North End is the white property
George Gilbert ARMSTRONG died 24 February 1945 at 133 North End, Golders Green.
The only son of George and Catherine, Richard Acland ARMSTRONG, married a French woman, Lucille Mathe Marcelle HARDY, whose parents were Belgian. Richard and Lucille had one child, George Alan ARMSTRONG, born 30 June 1936. Richard Acland died of heart failure in Portugal on 1 October 1942. Probate was granted to Richard Armstrong, attorney for Lucile Armstrong, widow.
1911 census for Lucille HARDY and family
1939 register for Richard Armstrong
1942 newspaper announcement of Richard's death in Portugal
1942 probate for Richard ARMSTRONG
---
William Froggatt CLARK
William Froggatt Clark was born in Nottingham in 1857. He married Elisa HAMEL in Nottingham in mid-1880 (Jun 1880 7b/451).
Elisa HAMEL was born in 1858 in Nottingham to Sigismund and Cecile HAMEL. The Hamel family lived at Welbeck Tce in the 1861 census, but by 1871 had moved to Newcastle Terrace, The Park, Nottingham (along with William Clark, William Froggatt, Arnold Goodliffe....etc). Elisa was the second of six daughters:
| | | |
| --- | --- | --- |
| Malvina HAMEL | 1857 | St Gall, Switzerland |
| Elisa HAMEL | Dec 1858 | Nottingham |
| Theresa HAMEL | Jun 1860 | Nottingham |
| Caroline HAMEL | Dec 1861 | Nottingham |
| Alice HAMEL | Jun 1867 | Nottingham |
| Florence HAMEL | Dec 1870 | Nottingham |
In the 1881 census, WIlliam and Elisa were living at 5 Tennyson St, Nottingham. In 1891 they were at 15 Wellington Square, off Derby Rd and adjacent to The Park. They had daughters Mary Malvina (aged 8) and Grace Cecilie (aged 3). In 1901 William Froggatt Clark was a timber and slate merchant (employer) living at 11 Park Terrace with Elise and daughters Mary (aged 18) and Gracie (aged 13).

1881 census for William Froggatt CLARK and family at 5 Tennyson St, Nottingham

1891 census for William Froggatt CLARK and family at 15 Wellington Sq, Nottingham

1901 census for William Froggatt CLARK and family at 11 Park Tce, Nottingham
1911 census for William Froggatt CLARK and family at 19 Park Tce, Nottingham
William Froggatt CLARK died 11 December 1927 at 20 Regent St, Nottingham although his residence at the time was Newcastle House, The Park, Nottingham. His wife Elise died a few years later on 28 November 1932 at Newcastle House.

1927 probate for William Froggatt CLARK

1932 probate for Elise CLARK
---
Mary Clark
Mary was born in 1859 in Nottingham. After her mother died in 1868, Mary and sister Catherine were sent to school in Brixton, London where they were in the 1891 census. She is back living with her father in the 1881 census. In 1891 aged 31, she was in Manchester, working as a "Lady Companion" with the widow Johanna MEYER. In 1901, aged 42 and still single, she was living as a "companion" to two elderly sisters at Parkfield, Middleton Rd, Crumpsall, Manchester. By 1911, aged 52 she was living with her sister Catherine (Armstrong) at Denison Rd, Manchester.

1871 census for Mary CLARK at a boarding school in Lambeth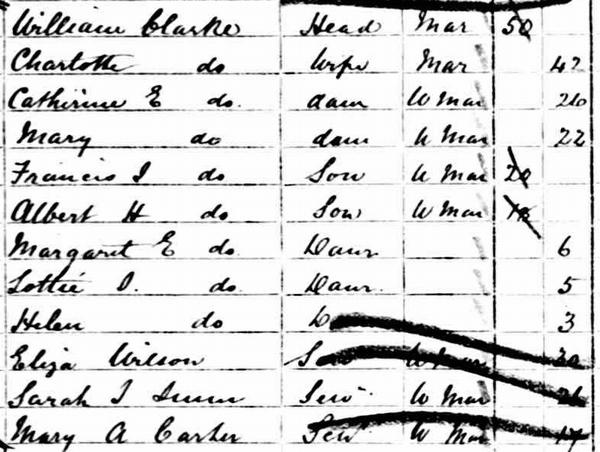 1881 census for Mary Clark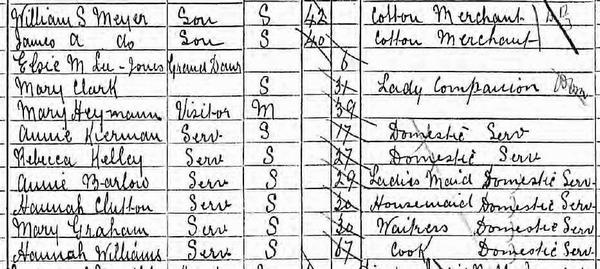 1891 census for Mary
1901 census for Mary CLARK
1911 census for Mary living with her daughter at Denison Rd, Manchester
I cannot find a death for Mary.
---
Francis Joseph CLARK
Francis was born in Nottingham in late 1860.

Francis Joseph migrated to Canada in 1882.

There is more information about Francis Joseph and his family here.
---
Albert Henry Clark
Albert Henry was born in late 1862 in Nottingham. In the 1871 census Albert was at school in London with his older brother Francis. In 1881 he was back living with his father in Nottingham.

1871 census for Albert Henry CLARK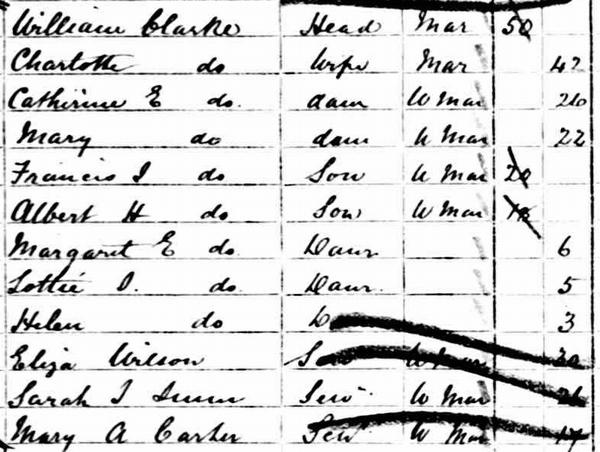 1881 census for Albert
I cannot find any further information about Albert.
---
The Children of William CLARK and Charlotte VENN
Margaret Eleanor Clark
Margaret Eleanor was born 19 October 1874 in Nottingham. She is living with her parents, William and Charlotte, in the 1881 and 1891 censuses. She attended Nottingham High School from 1886 to 1891, specialising in music and the violin. After leaving high school she attended the Berlin Conservatoire from September 1892 a became an accomplished violinist. In 1901 she is a Teacher of Violin in Middlesbrough. There is a marriage for Margaret Eleanor Clark in Nottingham in Jun 1906 (7b/647) to Henry Stanley PROUDLOCK.
In 1911 the family are living in Castleton, Yorkshire, a small village on the banks of the Esk River, and inland from Whitby. Henry's occupation was consulting mechanical engineer. He probably found work at the numerous quarries and mines in the district. In 1911, Margaret is recorded as a violinist. They had one daughter, Margaret Ursula, aged 5.5 months. There is also a birth recorded for John PROUDLOCK in Newcastle on Tyne in Dec 1916, mother's maiden name CLARK.
---
Lottie Isabel Clark
Lottie was born in Nottingham on 15 December 1875, and is in the 1881 and 1891 census records with her parents. In 1901 and 1911 she is listed as a school teacher in Wakefield, Yorkshire. There is more information about Lottie here.
---
Helen Clark
Helen was born in Nottingham in 1878 and is in the 1881, 1891,1901 and 1911 censuses with her mother. She married Joseph Ashby BIRD in mid 1920 (Wokingham 2c/1310). I cannot find any children. Joseph died on 16 August 1952.

Helen Stanley died on 13 May 1966. She was still living at 65 High St, Hampton, Surrey.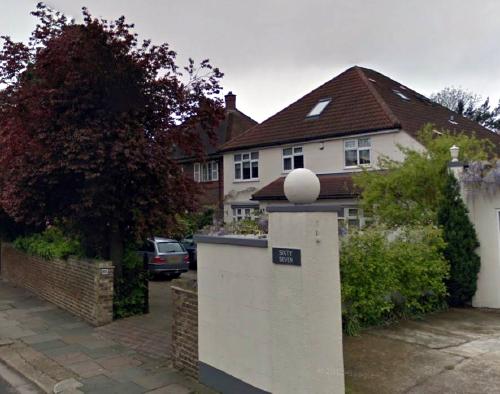 65 High St, Hampton, Surrey today

---
Last updated: 06/04/2019