The Froggatt Family of Brewhouse Yard, Nottingham
FRANCIS JOSEPH CLARK
Son of Mary FROGGATT and William CLARK
of Fairlawn, The Park, Nottingham
Francis Joseph CLARK was born on 4 December 1860 in Nottingham, the fourth child of William CLARK and Mary FROGGATT.
  James            Mary  Joseph           Rebecca
FROGGATT=====v=====LOWE  BOWLER====v======MILWARD 
1770-1824  m:1801 1774-?  1748-  m:1795                  
             |                     |
           William             Elizabeth      John            Mary
          FROGGATT======v=======BOWLER       CLARK======v======?
         1807-1866    m:1832   1802-1883       1782-    ?
                        |                               | 
                  Mary FROGGATT                   William CLARK  
                    1833-1868                       1831-1899 
                        |                               |
                        |====================v==========|
                                           m:1854
                                             |
      |--------------|-----------|-----------|---------------|--------|
   Catherine       William      Mary   

Francis Joseph

      Albert   Walter
  1855-1941      1857-1927   1859-1930     1860-           1862-  1865-1895
      |              |           |           |               |        |  
    m:1894         m:1880                  m:1899             
    George         Elisa                  Edith May
  ARMSTRONG        HAMEL                  McKINNON 
  1870-1945      1858-1932               1876-1938
      |              |                       |
                                             |---------|-----------|
                                          Margaret    Mary       William 
                                         1900-1901   1903-     1909-1931 
                                             |         |           |
                                                     m:1932
                                                    William
                                                   SANDERSON  
                                                   1886-1966
                                                       |----------|  
                                                    Margaret  
                                                   1933-2021  
                                                       |  
                                                      m:  
                                                    Maurice  
                                                     MASAR  
                                                   1932-2018  
                                                       |

Francis would have been four months old at the time of the 1861 census. They were living in Isabella St, a small street that runs off the bottom of Castle Road, opposite Brewhouse Yard. William Clark was working as a timber Dealer at Castle Wharf and his Froggatt in-laws had recently moved from Brewhouse Yard to the nearby Standard Hill. Others of the Froggatt family were in the nearby Edward St.
Francis' mother, Mary CLARK (Froggatt) died in 1868, aged 35, leaving William CLARK with five children aged 13, 11, 9, 8 and 6. In the 1871 census Francis and his brother Albert were at school in London (25 Brixton Place, Lambeth).
His father William remarried in 1874 to Charlotte VENN and the children returned to Nottingham. In the 1881 census Francis and Albert were back living with their father in Nottingham, together with their 3 young half-siblings:
Francis the Apprentice
Francis Joseph, aged 15, was apprenticed to the Midland Hosiery Company Limited from 17 February 1875 until 9 December 1881. He was to be paid £8/12/0 in the first year rising to £33/16/0 in the last year.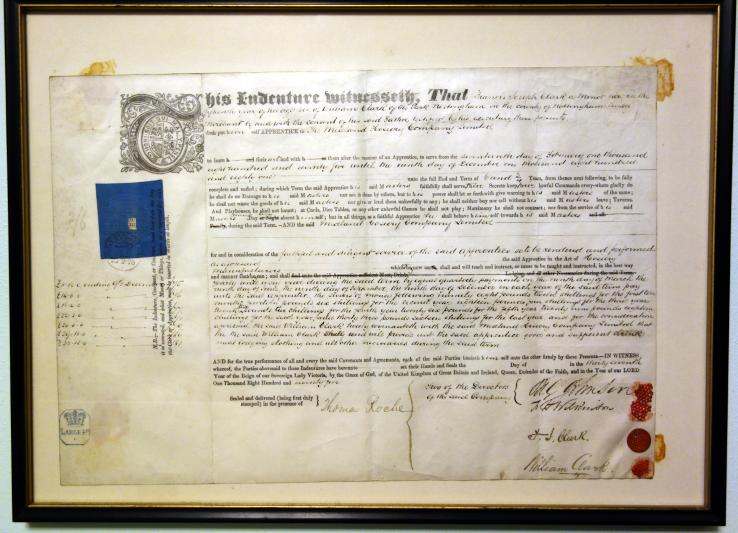 Francis Clark's Indenture Paper, dated 25 February 1875
Migration to Canada
A few months after he had completed his apprenticeship in 1882 Francis Joseph migrated to Canada, aged 22 years. We do not know for sure what Francis did on arrival in Canada but this might be him in the 1891 census, at a boarding house in Branson, Manitoba. He was working as a grain merchant.


1891 census for Canada, for an FJ Clark in Brandon, Manitoba.
Marriage to Edith May McKINNON
Francis Joseph married Edith May McKINNON in Brandon on 15 August 1899 according to the Manitoba Vital Records database. He was 38 and she was 22 years old.
The family of Edith May MCKINNON
As far as I can determine, Edith May McKINNON was the daughter of Donald Chester McKINNON and Helen Francis HASSARD.
                                         John     Margaret

			                                       McKINNON==v==McGILL

			                                                 ?   1913-

			                                                 |

			   Mary                William    Helen        Donald        Agness

			 FROGGATT=======v=======CLARK   HASSARD===v===McKINNON===v===McGREGOR

			1833-1868     m:1854  1859-1894           | 1844-1908   |  1860-1918

			                |                         |                    

			         

FRANCIS JOSEPH

========v=======Edith May

			

             1860-

           m:1899   1876-1938>  
			
                               |

			             |-----------------|---------------|

			        Margaret Helen    Mary Louise    William Francis

			         1900-1901           1903          1909-1931  

			             |                 |               |

			
Francis and Edith CLARK are in the 1901 census, living in Brandon, Manitoba. Edith's date of birth is given as 9 December 1876 and she was born in Ontario.
The only person in the Canada census records with this name and age is Edith M. McKINNON, aged 4 born in Ontario with parents Donald and Hellan (Helen) McKINNON.
McKINNON in the 1881 census
The family was living in Wellington, Ontario:
1891 census
Living in part of Brandon, Manitoba, Donald McKINNON was now a hotel keeper and along with his family the hotel was full of single men, mostly house carpenters:

Death of Helen Francis and marriage of Donald McKinnon to Agnes McGregor
Helen Francis died on 16 July 1894 in Brandon, so the family was living in Brandon before this date.
According to the 1901 census. Donald McKinnon had a new wife, Agness, born in America. It is likely that the Donald C. MCKENNON and Agnes McGREGOR who married at St Paul, Ramsey, Minnesota on 13 January 1896 are this couple.
1901 census
By 1901 Donald McKINNON had moved to Brandon where he is again a hotel keeper with 10 domestics and 21 lodgers. His wife is now Agness, an American who arrived in Canada in 1896 (which agrees with the wedding date of January 1896. She then accompanied her new husband back to Canada.
1911 Census
By the time of the 1911 census, Donald McKinnon had died and Agness was living in Meares St, Victoria, British Columbia with her son Donald C. McKINNON:

Death of Agnes
It appears that Agnes McKINNON died in Winnipeg, Manitoba on 23 April 1918 and is interred in the Elmwood Cemetery in Winnipeg.
Memorial for Donald and Francis McKINNON
Donald McKINNON died on 14 August 1908 in Victoria, BC. He is buried in the Municipal Cemetery in Brandon, Manitoba alongside his first wife Helen Francis.

The inscriptions on the memorial reads:
In memory of
Helen F. Hassard
wife of
D. McKinnon
died
July 16, 1894
aged 34 years
and 9 months
a true companion and devoted mother whose memory will never
be forgotten
may her kind spirit prevail with
us, that her last wish may be respected
is my prayer
D. McK
In memory of Donald C. McKinnon
born Feb 20, 1844
died Aug 14, 1908
McKINNON
The family of Francis Joseph CLARK and Edith May McKINNON
Francis and Edith had three children:
| | |
| --- | --- |
| Margaret Helen | 30 Aug 1900 - 5 March 1901 |
| Mary Louise | 22 Jan 1903 - 5 April 1898 |
| William Francis McKinnon | 15 Aug 1909 - 29 April 1931 |
The first census after their marriage in 1899 was in 1901. Francis gave his occupation as Accountant and his date of arrival in Canada as 1882. They were living in Brandon, Manitoba.
In the 1911 census for Canada Francis is listed as "Manager, Fair Ground", with children Mary (born Jan 1903) and William (born 1909). They were living at 1911 Rosser Ave, Brandon:
They were still at this address in 1921
Land Grants
There are records for four land grants to Francis Joseph Clark of Manitoba. Click on the images for a full size version:
Military Service
Francis Joseph saw three periods of military service, although he appears to have been enlisted in various militia for most of his life. He was in the Robin Hood Rifles in Nottingham from 1879 to 1882 when he left for Canada:
firstly in the North-West Rebellion of 1885, which was a brief and unsuccessful rebellion by the Métis people of the District of Saskatchewan under Louis Riel against the Dominion of Canada;
South Africa in 1902, and
Enlistment in the Canadian Overseas Expeditionary Force in 1915.
His 1915 Military Attestation Form is here:
Commanding the 45th Battalion
Francis Joseph CLARK was the original commanding officer of the 45th Battalion Canadian Expeditionary Force. The battalion was recruited from throughout Manitoba and embarked for Britain on 1 April 1916. By that time, Francis would have been 45 yeas old. It appears that the battalion was soon dispersed into other units as reinforcements and was eventually merged.
Entry in the 1914 Who's Who
CLARK, Francis Joseph - Managing Director, Canadian Phoenix Insurance Co., Fire Insurance, 9th St., Brandon.
Born Nottingham, England, Dec.9, 1860, son of William and Mary Clark. Educated: Private Schools. With Midland Hosiery Co., Nottingham 1875-1882;
came to Manitoba 1882; farmed South of Brandon, Man., 1882-1889;
Accountant, Hamilton Provident Loan Society, Brandon, 1889-1905; started present business, 1906. Alderman, Brandon, 1905-1909.
Private, Robin Hood Rifles, Nottinghan, England 1879-1882; Sergeant, 95th Regiment, Northwest Rebellion 1885; Captain, 5th Mounted Rifles, South Africa, 1902; Lieutenant-Colonel, 12th M.D., 1908-1912; Brigadier, 7th Cavalry Brigade, 1913.
Married Edith May McKinnon, daughter of E.C.McKinnon 1899; has one son and one daughter. Club: Brandon. Societies: A.O.U.W.; C.O.F.; W.O.W. Recreations: motoring, shooting, golf, cricket. Liberal; Unitarian. Residence 1911 Rosser Ave., Brandon, Man.
See information at the Great War Project
Overseas travel
In 1913 the family travelled to England departing Montreal on the Royal George, arriving in Avonmouth (Bristol) on 30 August 1913. The shipping record shows LTCOL Francis CLARK (53) of the Bay Militia travelling with other officers from the militia. Also on board were his wife and children, Mrs Edith May, (aged 35), Miss Mary Louise (10) and WIlliam (4). It was a short visit, as they returned to Canada on the same ship a few weeks later, arriving in Montreal on 11 October 1913


1913 shipping record for Francis Joseph and family travelling from Montreal to Avonmouth.


The return voyage.
In 1933 Francis and Edith were again in the UK, arriving at Southhampton on 3rd April 1933 from Cherbourg on the Empress of Australia after a New York and Mediterranean Cruise. They only remained a few days before departing Liverpool for Montreal on 13 April 1933 on board the Duchess of Atholl and arriving on 26 April 1933. On this occasion all three shipping records are available - ariving and departing the UK and arriving in Canada:




1933 shipping record for Francis and Edith on an overseas cruise.
Death of Edith May and Francis
Edith May CLARK (nee MCKINNON) died on 29 April 1938 at Brandon Manitoba and is buried in the Brandon Municipal Cemetery.
Francis Joseph CLARK survived his wife by over 15 years, dying in Brandon on 12 August 1953. He is buried beside his wife Edith.
| | |
| --- | --- |
| Headstone for Edith CLARK at Brandon Municipal Cemetery | Headstone for Francis Joseph CLARK at Brandon. |
---
The Children of Francis Joseph and Edith May CLARK
Mary Louise CLARK
Mary Louise was born in Brandon, Manitoba, Canada on 22 January 1903. She is with her parents in the 1911 and 1921 census records. She accompanied them to the UK in 1913.
There is a shipping record for Mary Louise, returning to Canada from the UK in 1926. It would appear that she missed the ship she was booked on, as the record for the Montnairn, departing Glasgow on 13 August 1926 shows she was not onboard. She took the next boat to Canada, the Montclare, departing Liverpool on 20 Aug 1926.
Marriage to William SANDERSON
Mary Louise married William McNaughton SANDERSON on 19 December 1932 in Winnipeg, Canada.
The family of William McNaughton SANDERSON
William was born in Lauder, Berwickshire, Scotland on 21 February 1886. His parents were John & Jessie (nee KERR).


Birth of William McNaughton SANDERSON on 21 February 1886 in Aberfoyle, Scotland
John SANDERSON & Jessie KERR were married on 23 April 1885 in Aberfoyle.

Marriage of John SANDERSON and Jessie KERR
John was working as a waiter in Edinburgh and Jessie as a domestic servant in Aberfoyle. The 1881 census gives a clue as to how they met. John and Jessie were both working at The Trossachs Hotel, Callander in 1881. The hotel is just a few miles north of Aberfoyle.



1881 census for John and Jessie at The Trossachs Hotel, Callendar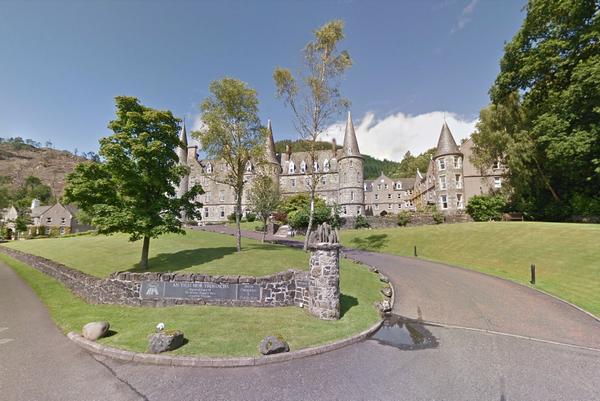 The Trossachs Hotel, Callendar (now the Tigh Mor).
In the 1891 Census John was now managing the hotel in Market Place, Lauder: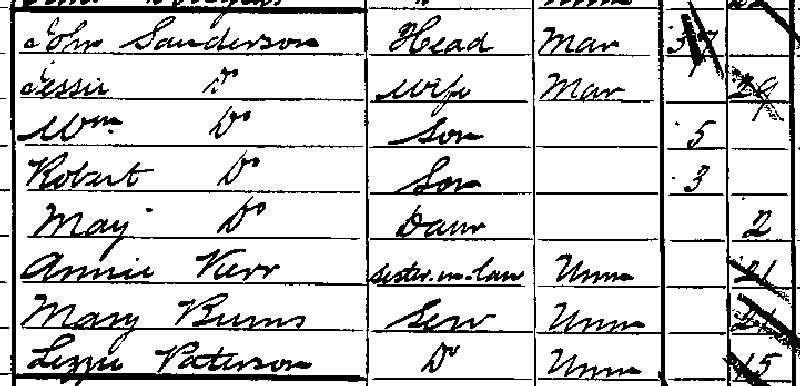 1891 census for John and Jessie.
The 1901 Census, John was now the hotel keeper at Brown St, Barry.


1901 census for John and Jessie at Carnoustie.
1911 Census for Scotland.
William is not in the 1911 census for Scotland. The remaining family were at Carnoustie, but William had departed for Canada in 1909.


1911 census for John and Jessie, still at 123 Dundee St, Carnoustie.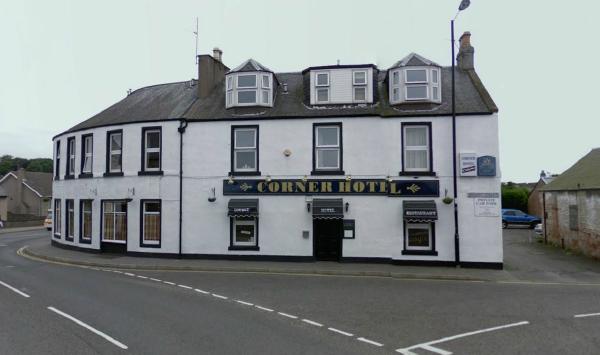 123 Dundee St, Carnoustie as seen today
Time in the Royal Air Force
William enlisted in the RAF Canada at Winnipeg on 19 October 1917, aged 31 years and 9 months. At that time he was living at 2121 Scarth St, Regina, Saskatchewan and working as a pay clerk. He was unmarried and his next-of-kin was his father John living at Carnoustie, Scotland. He enlisted in the School or Aerial Fighting but did not see active service. He was later transferred to the Pay Masters Office, RAF Toronto. William was discharged from the RAF Canada on 31 March 1919. In 1920 he applied for a War Gratuity in addition to his pay and was granted $70.00 but after deductions netted $38.70. He was living at 263 Hochelaga West Moose Jaw, Saskatchewan at the time.
| | |
| --- | --- |
| William's RAF record. | |
A "wife" and children in Moose Jaw
The 1921 census shows William with wife Jean and young son Eoin (Ian) (23 May 1920 - 17 April 1947) living at Moose Jaw, Saskatchewan. The 1926 census shows them in Bandon, Manitoba now with daughter Jessie (6 May 1926 - 16 November 2017). Jean appears to have changed her name to Janet between these dates.


1921 census for William, Jean and Eoin at Moose Jaw.


1926 census for William, Jean, Eoin and Jesse now at Brandon, Manitoba.
Jean/Janet RATCLIFFE had been born in Liverpool in 1883 and had married Arthur George BARKER in Ceylon in 1903. They had 1 daughter - Dorothy Kathleen (1906-1973). It appears that Arthur and Jean migrated to Canada in 1914, where Arthur soon enlisted in the Canadian Expeditionary Force in 1915. His Attestation papers include the assignment of his pay to his "wife" (as recorded in the attestation paper) Jean BARKER, resident c/- Mrs Ross, at 2121 Scarth St, Regina, Saskatchawen. However this was also the home address of William McNaughton SANDERSON (see William's RAF enlistment above) with whom she was now living. There is no evidence that Arthur divorced Jean/Janet: certainly she was named as his wife on his war gratuity application in 1919. Similarly there is no evidence that she subsequently married William SANDERSON in Moose Jaw or Brandon, despite having 2 children with him.
Death of Jean/Janet
Jean/Janet died at Brandon, Manitoba on 19 April 1928. Later in 1928 the two children sailed for Scotland accompanied by a Jeanie BROWN. Ian and Jessie did not return to Canada. Ian appears to have lived with his granparents in Carnoustie from where he attended St Andrews University and graduated with an MA in 1942. He died of TB on 17 April 1947 at Newcastle under Lyme. Jessie married John GIBSON in Birkenhead in 1949 and died in Wales in 2017.
The death of Jean/Janet and the travel of the two children to Scotland left William McNaughton SANDERSON living in Brandon without dependents.
William and Mary Louise: Travel to Scotland then return to Canada
Returning to the story of William and Mary: Soon after their marriage in 1932, William and Mary Louise departed for Great Britain. They boarded the "Montcalm" in Halifax, Nova Scotia and arrived in Liverpool on 15th January 1933. Their proposed address was 1 South Rd, Birkenhead, near Liverpool. It appears that this was probably the address where William's daughter Jessie was living, suggesting his first intention was to visit her. His son Ian Fisher was probably living with his grandparents in Carnoustie by this time.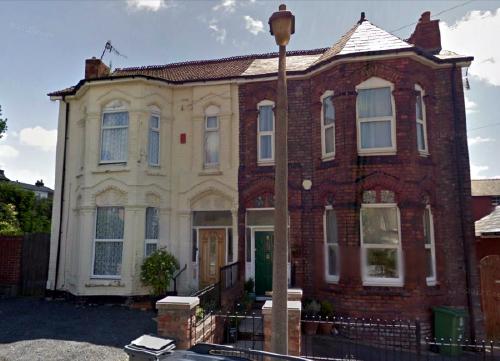 1 South Rd Birkenhead today (on left)
They remained in Great Britain for five years, returning on the "Duchess of Richmond" departing Greenock on 28th May 1938. Apprarently the death of Mary's mother, Edith May CLARK on 29 April 1938 precipitated their return. By this time William and Mary had two children - Margaret and Moira. Their address on departure was given as 21 Camperdown Rd, Dundee.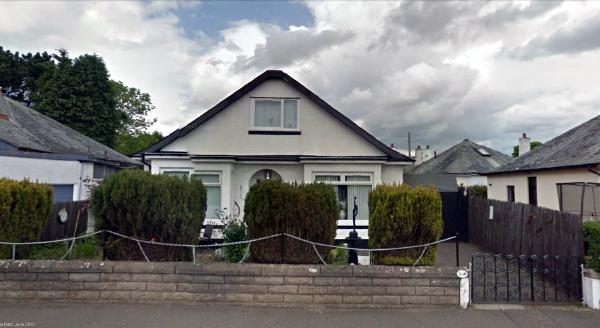 21 Camperdown Rd, Dundee
On their return to Canada, William and Mary returned to Brandon, Manitoba where they lived for many years before moving to Victoria, BC. William died there on 14 December 1966. Mary louise died there on 5 April 1998.
---
Last updated: 6 March 2022